What people says
I have received the item. All good. Thanks.

The items have just arrived this morning. Thank you very much - you always provide very good service.
Thank you for this very handsome document. I appreciate you having looked after it so well. Kind regards to all of you.

Thank you for sending the two packages to me. I would like to let you know that they have arrived safely. Your expert insights are greatly appreciated!

Just thought I would let you know that the post scrip arrived today. Thank you very much. I love it.

The bond arrived yesterday - well packed and in good shape! Thank you for your kind assistance in this matter.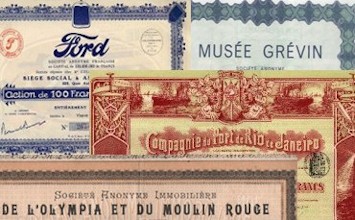 Recent blog posts
Documents displayed are all original collectibles. How to be sure of the authenticity of a bond?
The dematerialization of shares and bonds was effective in France in 1984.
There are several kind of stock market certificates: the shares, the founder shares and the bonds.