Documents displayed are all original collectibles.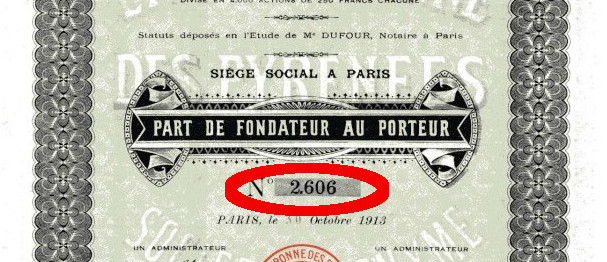 Shares and bonds have a serial number, except in the case of Specimen (number 0).
The document ordered and delivered may include a serial number different from that displayed on this website.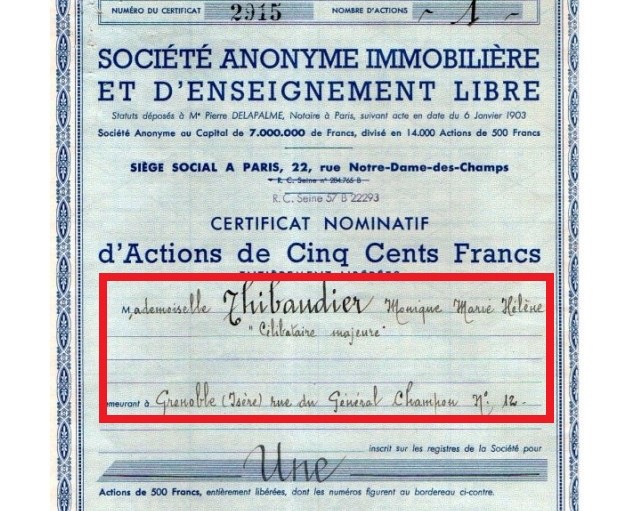 The certificates are generally said to be "bearer". There are also registered certificates, that is to say denominated in the name of an individual or a company.
When ordering, the name of the beneficiary of the title received may be different from that displayed on the website. This in no way affects its collection value (except in the case of a famous name).
If you order a nominative certificate and wish that the name of the beneficiary or the signatures be specifically identical to the image presented, thank you for letting us know when ordering.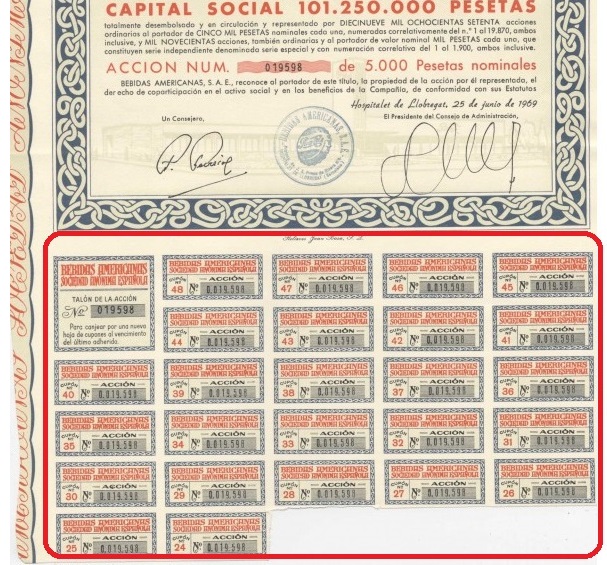 Bonds may or may not have coupons located at the bottom or sometimes on the side of the document.
The coupons correspond to dividends or interest paid by the company or by the State. The presence of numerous coupons may mean that the company has declared bankruptcy and has not distributed dividends, that the State has not reimbursed all or part of the investors. The number of coupons is generally not a determining criterion of the collection value. The document sent may include none, part or all of the coupons.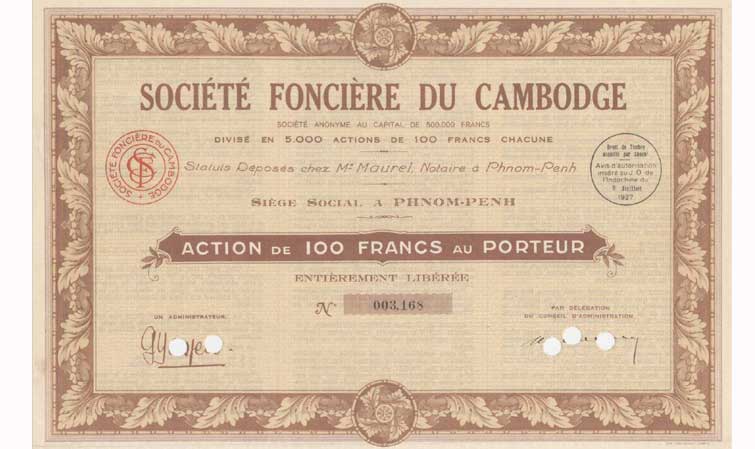 Bonds can be cancelled, in particular concerning state loans.
The cancellation is marked by a stamp or perforations called "cancellation holes". When the title is canceled, we will specify it.



Shares and bonds are documents that are sometimes almost 100 years old, and in a variable state of conservation.
The customer must be aware of the state of the document ordered ("Information / state of conservation"). The abbreviations used to describe the state of conservation of the titles presented are:
EF (Extremely Fine): Superb condition. The bonds can however be presented folded generally at the coupon level.
EF / VF: Very good condition with slight stains, small tears or marked folds
VF (Very Fine): Good condition with slight stains, marked folds and tears sometimes repaired
F / VF: Good condition with very marked folds or medium tears, sometimes repaired
F (Fine): Good condition despite larger stains, holes or tears repaired.
Authentication certificate
As we have been the leading French scripophily specialist for 40 Years, we are able to provide Numistoria Certificate of Authentication for delivered items on request (fee occurs).