The Stavisky case
The incredible story of a scam of the Parisian high society.
Alexandre Stavisky is the son of a Polish Jewish dental technician. Born in Ukraine in 1886, he arrived in Paris at the age of 12 with his father and grandfather..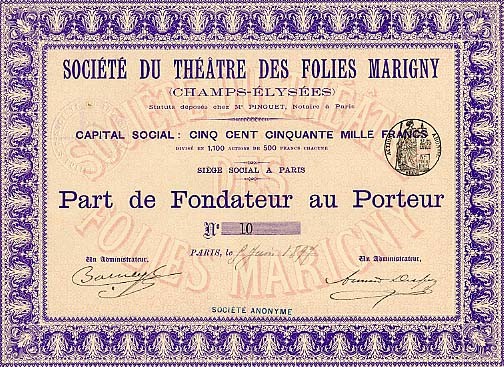 The Théâtre des Folies-Marigny in Paris was the scene of one of his first scams when he was only 23 years old. In 1912, Stavisky rented the theater to the City of Paris for the summer season, it being closed during this season. Stavisky publishes classified ads in Le Matin and Le Petit Parisien to recruit employees: "administrator, secretary, tobacconist, buffet dealers, flowers, sweets, weavers, advertising for the curtain, program, etc." To each candidate he asks for the payment of a deposit to allow them to pay the rent of the lease. But Stavisky keeps the money to himself, never settling his debts to the city. Prosecuted, war breaks out and he narrowly escapes prison...
A good talker and seducer, he married Arlette Simon, a former Channel model who gave him two children. He develops his network to defraud high society for twenty years.
The name of Stavisky, who calls himself "the handsome Sacha", already appeared in Biarritz in 1926, when he undertook the construction of a sumptuous casino hotel, la Roseraie, on the hill of the Mademoiselle d'Ilbarritz in Bidart. Stavisky was also administrator of the Casino de la Pergola in Saint-Jean de Luz where he played big.
In 1926, he was prosecuted by stockbrokers for having stolen securities but managed to escape from the office of the examining magistrate by going through the adjoining toilets. Taken back by the police after four months of tracking and sent to the prison of Health, then transferred to the prison of Fresnes for medical reasons, Stavisky will be released in December 1927 without having ever been tried.
Anyone who wants to be forgotten and is now called "Mr. Serge Alexandre" becomes a company director: Compagnie Foncière d'Entreprise Générale de Travaux Publics, Société d'Installations Mécaniques et Agricoles (SIMA), Etablissements aéronautiques Weymann, La Jurançonne, Franco-American Cinematograh Corporation...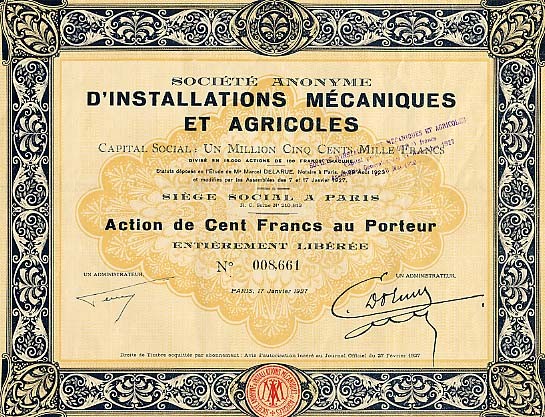 He creates the Alex company which engages in the jewelry trade, which will allow him to get his hands on the Crédit Municipal d'Orléans with the complicity of the director. The establishment first receives the jewels of its company in pledge, which are systematically overvalued by experts. Then, Stavisky replaces the real jewelry with fakes which are then returned to the borrowers, while the real ones are resold. It also issues fake cash vouchers. Thus, for three years, 70 million francs of fictitious bonds will be issued!
Il recommence l'opération avec de nombreuses sociétés. Stavisky opère toujours de la même façon : il crée des sociétés dont la seule justification est d'obtenir de l'argent des banques en mettant en gage des bijoux. Lorsqu'il faut rembourser des actionnaires impatients, il émet de faux bons de caisse pour se renflouer.
He restarts the operation with many companies. Stavisky always operates in the same way: he creates companies whose only justification is to obtain money from the banks by pawning jewels. When it is necessary to reimburse impatient shareholders, it issues fake savings certificates to bail itself out. 
"The Stavisky Affair" erupted on Christmas Eve 1933 with the arrest of a certain Gustave Tissier, director of Crédit Municipal de Bayonne, for forgery, use of forgery and misappropriation of public funds.
We learn that Tissier is only an instrument: that of Serge Alexandre, whose real name is Stavisky, who, with the complicity of the deputy and mayor of Bayonne, Joseph Garat, created this Municipal Credit. Garat is Chairman of the Bank's Board of Directors. He too will be imprisoned at the beginning of 1934 and he will resign.
The bank has issued more than 200 million cash vouchers, covered by barely 20 million jewels deposited as collateral, which are false or overvalued. The money was lent to Stavisky, who uses it to finance his speculations.
The scandal is all the more enormous as it turns out that Stavisky has already been the subject of legal proceedings, all stifled by the intervention of ministers or corrupt parliamentarians. Less than a fortnight later, we learn that Stavisky, who fled and whom the police are tracking, would have committed suicide in a villa in Chamonix...
His strange death provoked a political crisis: the government of Camille Chautemps had to resign, giving way to Daladier.
This affair was exploited by all the country's anti-parliamentarians and anti-Semites. Ministers and parliamentarians allowed themselves to be corrupted or naively deceived. This scandal was the detonator of the fall of the Daladier cabinet.
On January 17, 1936, the Stavisky trial ended, nine politicians were convicted, including the deputy mayor of Bayonne, and eleven others acquitted.
Comments
Leave your comment