A famous signature

The signatures of famous artists, financiers and administrators on stock market bonds give added value. These must be original!
Among the most famous signatures, we find on the bonds:


Signatures of executives
Ferdinand de Lesseps, founder of the Panama Canal
Renault or Citroën, French automobile company founders
J. Paul Getty, rich industrialist and famous art collector ...
Baron James de Rothschild, for the Société de Jonction du Canal Sambre Oise

Signature of J. Paul Getty


Signatures of financiers
Nathan de Rothschild, who signed the first Russian bonds issued in 1822,
John Rockefeller (1839-1937) on the shares of the Standard Oil Company,
Henry Flagler, famous for the investment of his fortune in the development of Florida, creating railways (including the famous north-south: Key-West / Jacksonville), luxury hotels and universities (especially that of Saint Augustine),
Péreire, French businessman, on some shares of the Crédit Mobilier and railways,
Ouvrard, the financier of Napoleon I on some Spanish loans, ...

Signature of Nathan de Rothschild


Artists' signatures
Charles Crabbe,
Alphonse Mucha, one of the most famous representatives of Art Nouveau,
Catenacci,
Cappiello,
Félix Schmidt,
Marcel Duchamp,
Gustave Fraipont (Belgian naturalized French 1849-1923),
Luigi Loir,
Leloir,
Giradon,
Metivet,
Paul Cauchie,
Décaris,
Deveria, the portrait painter of Victor Hugo and Franz Listzi, ...
and even Velasquez.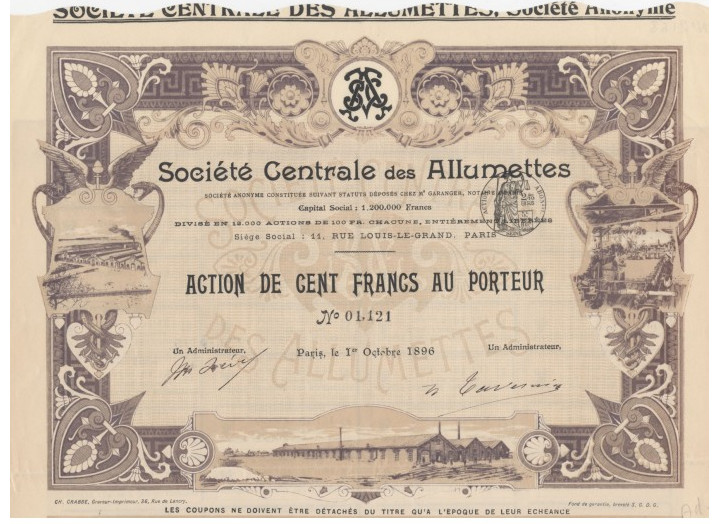 Design by Ch. Crabbe
Comments
Leave your comment